JAS Worldwide Slashes Workers' Walking Time by 40% through Innovative Partnership with Zebra Technologies
2 min read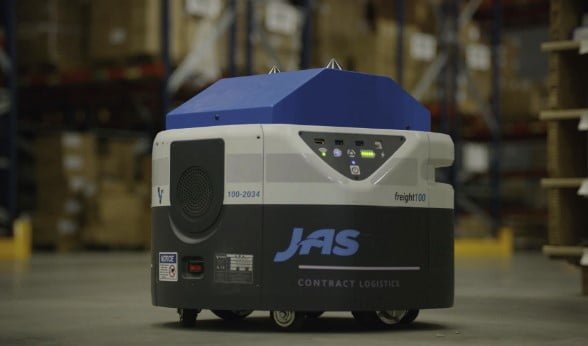 Zebra Technologies Corporation (NASDAQ: ZBRA), a leading digital solution provider enabling businesses to intelligently connect data, assets and people, today announced global logistics industry leader, JAS Worldwide has selected Zebra's Robotics Automation solution to drive efficiency in its fulfillment operations. Zebra's CartConnect100 autonomous mobile robots (AMRs) support JAS Worldwide's strategy to increase throughput for its fulfillment customers at its new 300,000 square-foot Contract Logistics Super Hub in Olive Branch, Mississippi.
Zebra's CartConnect100 AMRs enable JAS to expand its automation strategies, bringing AMRs into its operations to accelerate the company's growth in omnichannel fulfillment. JAS selected this solution based on its ability to seamlessly integrate with the company's workforce and handle JAS' diverse product mix­­ from automotive parts and high-end fashion to medical devices. The solution's flexibility—supporting multi-use workflows including batch, case picking and materials movement—was also a critical differentiator for the JAS Contract Logistics team.
"We are dedicated to providing our clients with the highest level of service and support," said Sebastian Tschackert, Executive Vice President, JAS Contract Logistics. "Investing in Zebra's AMRs has enabled us to reduce the time our people spend walking by 40%, freeing them to focus on higher value tasks and enhancing our commitment to delivering true end-to-end services across the entire supply chain."
According to the 2023 Zebra Global Warehouse Vision Study, 88% of warehouse decision-makers plan to implement mobile robots for a wide range of tasks by 2028, and 78% of associates already working with mobile robots agree they make their warehouse jobs less stressful. Robotics technology from Zebra, including cloud-based software, optimizes workflows at every stage to improve operational performance.
"We're thrilled to help JAS Worldwide work in new ways, leveraging robotics automation to increase productivity," said Matthew Wicks, Senior Director, Robotics Automation, Zebra Technologies. "This translates into faster order fulfillment and material movement to improve efficiency and customer satisfaction. JAS is now well-positioned to improve workflows across its supply chains."
KEY TAKEAWAYS
JAS Worldwide has selected Zebra's CartConnect100 AMRs to increase throughput and fulfillment efficiency at its new state-of-the-art facility.
JAS is relying on Zebra to work in new ways, leveraging AMRs for the first time in a U.S. location.
Zebra's AMR solution frees workers to focus on valuable tasks by reducing the time workers walk to complete a task by 40% at the JAS Contract Logistics Super Hub.
Learn more about how JAS Worldwide worked with Zebra to increase efficiency and productivity here.